Where will I be in 10 "dam" years
Wendy at
Never Underestimate the Power of a Running Woman
recently tagged me in a post about dams....to tell where I think I will be in 10 years. The "You're Going Places" award - which is funny because most people tell me I'm going nowhere, fast.
Never one to back down from an
Internet meme
(
College Humor - click that one if you have sound, its a good one
), I felt obligated to comply:
Running: In 10 years, I hope to be closing in on my 50 states goal (see pitiful map on the left). By that time I should have ran Boston as I am trying to qualify within the next 18 months. The unfortunate reality is that I will have likely slowed down
Life: While the changes from 18 to 28 were pronounced (I can buy beer!) I can only assume that the changes from 28 to 38 will be just as drastic (I'm the Parent Teacher Assoc chair!). I'm sure that I'll have a few little kiddos running around and I'll be trying my best to not become a helicopter parent. I'm also sure that I'll also be holding off the urge to buy a convertible but will likely have at least one leather jacket.
What about you?
I'm supposed to tag 10 people to tell me where they will be in 10 years, but I'd rather just know where EVERYONE think's they'll be.
Living in a van, down by the river
is not an acceptable answer.
Rad Treats
About a week ago, I won a two HUGE cookies from
Rad Runner
. They were "
Alternative Baking Company
" Vegan Cookies -Mac the Chip and a Colossal Chocolate Chip Cookie. I'm not vegan, I could never be vegan, but I have a lot of respect for someone who cares either enough about their body to only put certain things in there or cares enough about animals to not use/abuse them. Me? I'd like to think I treat my body like an amusement park.
Giggity Giggity
The goods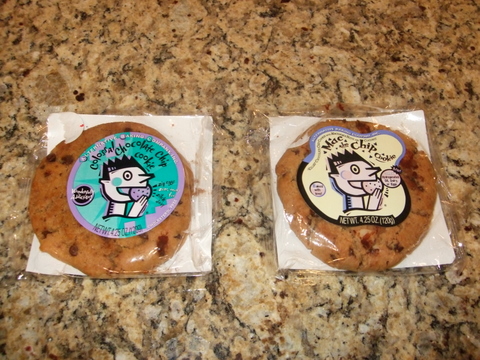 I went out for a 5 mile tempo run on Thursday (in 100 degree heat)
had opened the mail and saw that I had received the cookies while
traveling. I then proceeded to dive in - face first.
The cookies were GREAT. Although, because they were 500 cals each, I think I'd only feel comfortable eating them after a run....or on top of a big bowl of ice cream. If you're going to go, do it RIGHT.
Tough Runs
Sometimes my body doesn't cooperate. This morning, I ran 4 miles at an overall pace of 7:56. Not bad on paper, but it felt like I was running 7:20s. My legs were tired, but more importantly, my MIND was tired. It was one of those runs where I don't really remember the first mile or two because I was still half asleep.
Fortunately though, I had shorts on (I've put my shoes on before my shorts in the morning ) and I made sure to have my iPod with me. So, I must be getting relatively good at getting into a routine. But, I'm the first to admit that they can't all be good runs and if it was easy everyone would do it. So, I got the miles in - and there is not much more to say.
Don't forget to enter my EFS giveaway!
*cough cough* inspiREDtorun13 *cough cough* They are sealed unopened packages - promise. Although, now that you mention it, throwing in my left overs isn't all that bad of an idea either!